Don't confuse the American Beauty cocktail with the Kevin Spacy movie American Beauty.  The cocktail will win hands down as much fresher, fun, and refreshing.   The sprig of fresh mint perfectly finishes this cocktail off.
The American Beauty cocktail is a classic drink that dates back to the early 20th century. It is a delightful combination of flavors, primarily featuring brandy and grenadine.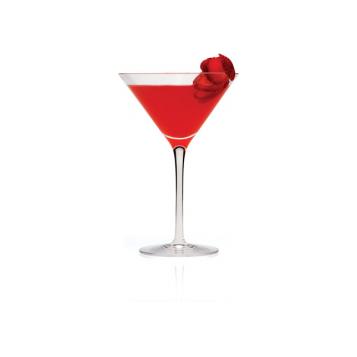 The Top 6 Brandies you need to Know
Remy Martin
Hennessy
Sulivan's cove
Martell
Giffard
Bardinet
The top 6 as per Man of Many 20 Best Brandy Brands to Sip Right Now
Best Drinking for American Beauty
This cocktail fits into the early night, sip relax and enjoy category.  The cocktail is best enjoyed out of a standard cocktail glass, something like a Coupe cocktail glass.  Which is also perfect for being used as a champagne glass or large martini glass.  It's hand-blown and lead-free glass. Which makes it perfect for hosting parties.
What is in an American Beauty Cocktail
This is where you really need to work on a budget for your home bar.  Liquors like Brandy can be very expensive.  A bottle of St Agness Xo 15-year-old can start at $100 per bottle.  Sure there are cheaper bottles available.  We'd always recommend sticking to your budget. find a brand that works for you and base your cocktail-making fun around that.
Brandy
Brandy is a type of spirit or distilled alcoholic beverage made from fermented fruit juice or wine. It typically has an alcohol content of 35% to 60% by volume (70 to 120 US proof). The term "brandy" comes from the Dutch word "brandewijn," which means "burnt wine."
Brandy is produced by distilling wine, which concentrates the alcohol and flavors. The type of fruit used in the production of brandy can vary, with grapes being the most common choice. However, other fruits like apples, pears, cherries, and peaches can also be used.
There are different styles and varieties of brandy available, each with its own unique characteristics. Cognac and Armagnac, for example, are specific types of brandy that are produced in the Cognac and Armagnac regions of France, respectively. These brandies are known for their high quality and distinct flavor profiles.
Vermouth (dry)
Vermouth is a type of fortified wine that is flavored with various botanicals, such as herbs, spices, flowers, and roots. It is typically aromatized with a blend of botanical ingredients, which gives it a complex and distinctive flavor profile.
Vermouth is produced by infusing a base wine with a mixture of botanicals and then fortifying it with a distilled spirit, usually brandy. The botanicals used can vary depending on the brand and style of vermouth, but common ingredients include wormwood, herbs like gentian and chamomile, spices like cinnamon and cloves, citrus peels, and various aromatic roots and barks.
There are two main styles of vermouth: sweet (red) vermouth and dry (white) vermouth. Sweet vermouth has a slightly sweet and often caramel-like flavor, while dry vermouth is lighter and more herbal in character. In addition to these main styles, there are also bianco (white) vermouth, rosé vermouth, and extra-dry vermouth variations.
Creme De Methe
Crème de menthe is a sweet liqueur with a distinct mint flavor. It is typically made by infusing fresh mint leaves in a base spirit, such as neutral grain alcohol or brandy, and then adding sugar syrup to create a sweetened liqueur.
Crème de menthe comes in two main varieties: green and white. Green crème de menthe is the more common and recognizable type, known for its vibrant green color. It gets its color from the addition of artificial coloring. White crème de menthe, on the other hand, is clear in appearance and has a milder mint flavor.
The liqueur has a refreshing and cooling taste due to the mint infusion. It can be enjoyed on its own as a digestif or used as an ingredient in a wide range of cocktails and mixed drinks. Crème de menthe is often used to add mint flavor to cocktails like the Grasshopper, the Stinger, or the Peppermint Patty.
Which glass do I use?
The American Beauty cocktail is perfect in a martini glass like the Coupe cocktail glass.  Having the right glass for the right drink is important.  It's all a part of the experience and the experience.
It's important to note that while using the recommended glassware will enhance the drinking experience, it's not always necessary. If you don't have the exact glass for a particular cocktail, try improvising with a similar alternative.  You can still enjoy the flavors and essence of the drink.  Maybe don't try a coffee mug through.
How do I make the American Beauty Cocktail?
This one is another cocktail to be made with a cocktail shaker.  Make sure you have one on hand at home if you are entertaining regularly.
Print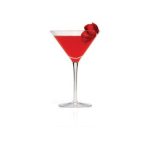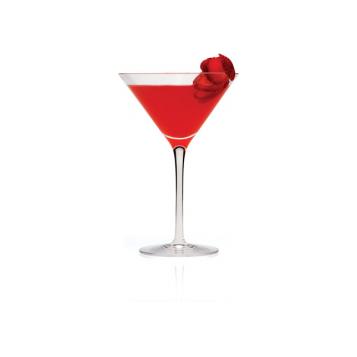 American Beauty
---
Author:

Total Time:

5 minutes
Description
Not to be confused with the movie American Beauty.  The American Beauty Cocktail is both fresh and refreshing.  Perfect for sipping on early on in the night.
---
1 measure of brandy
1 measure of dry vermouth
a dash of crème de menthe
1 measure of grenadine
1 measure orange juice
---
Instructions
Put some ice cubes into a cocktail shaker and pour the ingredients in.
Then shake well and strain into a large cocktail glass.
Tilt the glass and gently pour in a little ruby port so that it floats on top.
Decorate with a sprig of fresh mint.
Keywords: American Beauty
The American Beauty cocktail offers a balanced combination of sweetness from the grenadine and the citrusy notes from the orange juice, complemented by the flavors of brandy.