Yes, not only do I enjoy mixing drinks (yeah who doesn't right). But I also love watching bartending movies.  Usually just to make fun of them but some are actually pretty on point.
Here are five bartending movies you might enjoy.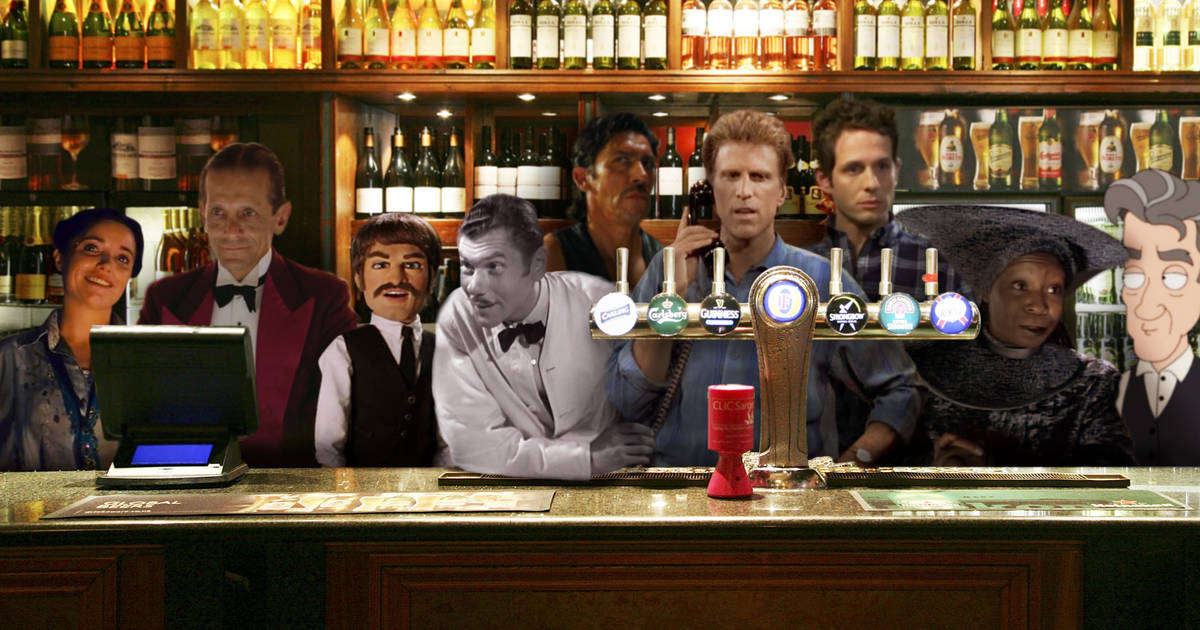 5 Bartending Movie for your next movie marathon
Cocktail (1988)
"Cocktail" is a 1988 romantic drama film directed by Roger Donaldson and starring Tom Cruise, Bryan Brown, and Elisabeth Shue. The movie revolves around the world of bartending and explores
the life of a talented bartender named Brian Flanagan, played by Tom Cruise.
The story follows Brian Flanagan as he leaves the United States Army.  Moving to New York City with dreams of making money and living the good life. However, he struggles to find a job and make ends meet. Eventually, he meets a seasoned bartender named Doug Coughlin, portrayed by Bryan Brown, who becomes his mentor and teaches him the art of bartending and the importance of flair and showmanship.
Under Doug's guidance, Brian learns the tricks of the trade and becomes a skilled bartender, known for his charismatic flair techniques. He starts working at a high-end bar and gains popularity among the patrons. Along the way, Brian falls in love with Jordan Mooney, played by Elisabeth Shue, who works as a waitress and aspiring artist.
As Brian's bartending career takes off, he becomes entangled in a world of success, money, and excess. However, his relationship with Jordan becomes strained due to his commitment to his profession and the temptations that come with it. Brian faces various challenges, including personal and professional setbacks, which test his character and force him to reevaluate his priorities.
"Cocktail" explores themes of ambition, love, friendship, and the consequences of choices. The film combines drama, romance, and elements of comedy, along with the energetic and flashy portrayal of the bartending world. It showcases the ups and downs of Brian's journey as he navigates the competitive and sometimes glamorous world of bartending while trying to find happiness and fulfillment in his personal life.
"Leaving Las Vegas" (1995)
"Leaving Las Vegas" is a 1995 romantic drama film directed by Mike Figgis and based on the novel of the same name by John O'Brien. The movie stars Nicolas Cage as Ben Sanderson and Elisabeth Shue as Sera. It tells the powerful and tragic story of two lost souls who form an unconventional connection in the midst of despair.
The film follows Ben Sanderson, a screenwriter who has lost everything due to his alcoholism. Filled with self-loathing and a desire to drink himself to death, he decides to leave Los Angeles and relocate to Las Vegas, a city known for its indulgence and excess. Ben plans to drink himself into oblivion, with no intention of ever sobering up or returning to his former life.
In Las Vegas, Ben meets Sera, a young prostitute struggling with her own personal issues. Despite their different backgrounds and circumstances, Ben and Sera form a unique bond and find solace in each other's company. Sera accepts Ben's self-destructive path and agrees to be with him without trying to change him.
The film delves into their complex relationship as they navigate the highs and lows of their unconventional connection. Ben's alcoholism spirals further, and Sera becomes increasingly affected by the consequences of their choices. Their relationship serves as a bittersweet exploration of love, compassion, and acceptance in the face of profound personal struggles.
"Leaving Las Vegas" is a deeply poignant and emotionally intense film that portrays the devastating effects of addiction and the power of human connection. It explores themes of loneliness, self-destruction, redemption, and the search for meaning in life. Nicolas Cage delivers a memorable performance, earning him an Academy Award for Best Actor, and Elisabeth Shue also received critical acclaim for her portrayal of Sera. The film offers a raw and unflinching depiction of two individuals who find solace and understanding in each other's embrace despite the harsh realities that surround them.
"Coyote Ugly" (2000)
"Coyote Ugly" is a 2000 romantic comedy-drama film directed by David McNally. The movie follows the story of Violet Sanford, played by Piper Perabo, a young aspiring songwriter from New Jersey who moves to New York City to pursue her dreams.
Upon arriving in New York, Violet faces the harsh realities of the music industry, struggling to make her mark as a songwriter. In her search for opportunities, she discovers a lively and rowdy bar called Coyote Ugly. The bar is known for its female bartenders who entertain the patrons with their dancing and energetic performances.
Violet becomes fascinated by the vibrant atmosphere of Coyote Ugly and musters the courage to apply for a job. Despite her initial shyness, she impresses the bar's owner, Lil, played by Maria Bello, with her talent and determination. Violet starts working as a bartender alongside a group of strong and assertive women, each with their own unique personality.
As Violet becomes more immersed in the world of Coyote Ugly, she begins to gain confidence and comes out of her shell. She develops close friendships with her fellow bartenders, including Cammie, played by Izabella Miko, Rachel, played by Bridget Moynahan, and Zoe, played by Tyra Banks.
While navigating her new job, Violet also finds herself torn between pursuing her dreams as a songwriter and her growing romantic feelings for a customer named Kevin, played by Adam Garcia. Their relationship adds a romantic subplot to the film and raises the question of whether Violet can find a balance between her personal life and her aspirations.
"Coyote Ugly" is a fun and spirited film that showcases themes of self-discovery, friendship, and pursuing one's passions. It combines elements of comedy, drama, and romance while highlighting the empowerment and camaraderie among female bartenders. The movie features energetic musical performances and memorable moments, capturing the exhilarating and sometimes challenging journey of Violet as she finds her voice both on and off the stage.
"Hey Bartender" (2013)
"Hey, Bartender" is a 2013 documentary film directed by Douglas Tirola. The movie provides an insightful and behind-the-scenes look into the world of bartending, exploring the craft, culture, and personal stories of bartenders.
The documentary interviews renowned bartenders and industry professionals, offering a glimpse into their lives, experiences, and perspectives. It delves into the history of bartending and its evolution as a profession, as well as the various techniques, skills, and creativity involved in mixology.
"Hey, Bartender" highlights the challenges and rewards of working behind the bar.  It showcases the dedication and passion that bartenders bring to their craft. It explores the pressure of the job, the long hours, the demands of customer service, and the importance of maintaining composure and professionalism in a fast-paced environment.
The film also delves into the impact of the craft cocktail movement.  Which emerged as a resurgence of classic cocktail recipes and an emphasis on high-quality ingredients and mixology techniques. It explores how bartenders strive to create unique and memorable experiences for their patrons through their expertise and creativity.
Beyond the technical aspects of bartending.  "Hey Bartender" also explores the personal stories of bartenders and their journeys within the industry. It sheds light on the camaraderie and community that exist among bartenders, as well as the sacrifices and challenges they face in pursuit of their passion.
The documentary aims to provide a comprehensive portrayal of the bartending profession.  Revealing both the glamour and the gritty realities behind the bar. It offers an appreciation for the artistry and skill involved in crafting cocktails while showcasing the diverse and fascinating personalities that populate the world of bartending.
"Hey Bartender" serves as an engaging and educational exploration of the bartending industry, offering viewers a greater understanding of the craft and the individuals who dedicate themselves to it.
"The Drop" (2014)
"The Drop" is a 2014 crime drama film directed by Michaël R. Roskam, based on the short story "Animal Rescue" by Dennis Lehane. The movie stars Tom Hardy, Noomi Rapace, and James Gandolfini in his final film role.
The story takes place in a Brooklyn neighborhood known for its organized crime activities. Bob Saginowski, played by Tom Hardy.  Works as a bartender at a local bar that serves as a "drop" location for illegal money transfers. The bar is owned by his cousin Marv, portrayed by James Gandolfini.
One night, the bar is robbed.  Bob and Marv find themselves caught up in a dangerous web of criminal activities.  Involving a Chechen gangster and a missing sum of money. As tensions rise, Bob becomes involved in a deeper conspiracy that threatens his life and those around him.
Amidst the turmoil, Bob discovers an injured pit bull puppy in a trash can. He then forms a bond with Nadia, played by Noomi Rapace, who helps him care for the dog. As their relationship develops, Bob finds solace and a sense of redemption through their connection.
"The Drop" is a slow-burning thriller that delves into themes of loyalty, redemption, and the consequences of one's actions. The film explores the underbelly of organized crime and the moral dilemmas faced by its characters. It presents a gritty and atmospheric portrayal of a neighborhood controlled by criminals.  Showcasing the individuals who navigate its dangerous landscape.
Tom and James at their best
The movie showcases strong performances, particularly from Tom Hardy.  Who as always delivers a nuanced and restrained portrayal of a man with a mysterious past. James Gandolfini also delivers a memorable performance in his final role, adding depth and complexity to the character of Marv.
"The Drop" is known for its atmospheric storytelling, well-drawn characters, and a twist-filled narrative that keeps viewers engaged. It offers a suspenseful and thought-provoking exploration of crime and loyalty. As well as the lengths one will go to protect what one holds dear.
There they are.  5 of my favorite bartending movies.  These films offer different perspectives on bartending and highlight various aspects of the profession. Enjoy your movie marathon!