The mixed drink concept is an American invention which has steadily grown more popular throughout the world over the years. As with any great culinary achievement, skill in mixing drinks comes with knowledge and practice.
Whether a professional bartender or an amateur drink-mixer in their own home.  The individual needs to judge just how extensive a collection of spirits, wines, liqueurs and flavourings they have in their collection.
Just remember quantity is not a substitute for quality. A few well-chosen bottles of spirits are really all that is required to mix most cocktails.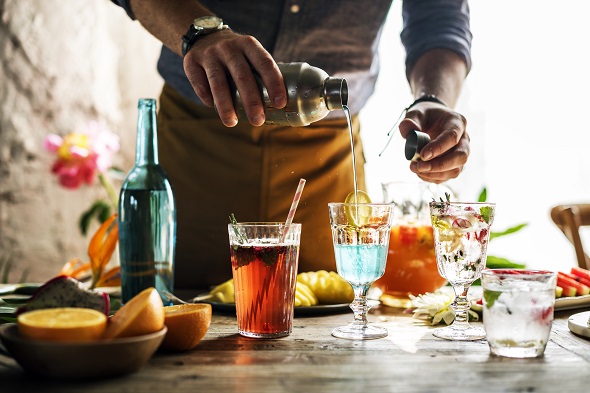 What's The Mixed Drink Secret
The ideal cocktail should be a blend, not a conflict of flavours. During the speakeasies of 1917-33 years, strange mixes were quite common as bartenders had to conceal the poor quality of the liquor.
Tastes change over the years and cocktails go in and out of fashion. It is becoming more popular these days to throw a cocktail party for friends or perhaps as a fundraising occasion.
Solving The Biggest Problem
The problem of what food to serve with drinks is easy to solve. The markets today offer a wonderful range of foods. There are so many appetising snacks that are easily made up for a cocktail party that we shouldn't have to resort to the old potato chip and salted peanut routine.
Nuts are available to purchase in tins and this allows them to be stored for a fair period of time. The peanut is a handy standby; however other varieties are even better and more original as accompaniments to drinks.
Macadamia nuts from Hawaii taste like a hot biscuit, and chickpeas, toasted and salted have a crisp distinctive flavour, Pistachio nuts salted are excellent also.
Almonds are another excellent snack, they may be raw, roasted, salted, curried or have a try at chilli almonds for something different.  Home-style pate` is also another snack that is able to be served with maybe a cracker or hot buttered toast or hot French bread.
Just think ahead for a mixed drink
Just keep a supply of snacks in the pantry.  It's a sure way not to be caught out if unexpected guests arrive.
Things like olives, cheese biscuits, anchovies, smoked oysters and sardines of all descriptions. Serve simple, substantial appetisers and you will be stress-free and able to enjoy the evening with your guests.